cycling in the Netherlands
discover the Netherlands with other mensa-members
---
all these bikepictures are collected by
Jan Boonstra
, he has more!


information: [not in 2002 but probably another try in 2003!!!!]
period

:

unsure-june/july 2003

start in Amsterdam

a week later

back in Amsterdam

participants: from all over the world; no professional cyclists needed!
camping on little campingplaces or a 'kampeerboerderij'
route: Amsterdam-********island-National Park**********-Groningen
back to Amsterdam with the train, or go your way elsewhere
costs: you will hear later..........
what do you need in your bag ?
how to join? Just send an e-mail to the organizing team and you get more info.
questions? mail me
cycles can be rent
---
when do we start?
At saturday, somewhere in june/july 2003, everyone tries to be at the Amstelstation in Amsterdam at
5.00 pm We are going to cycle in Amsterdam, first stop about 2 hours cycling from Amsterdam
Next days we will cycle about 40-50 km a day, there will be several cycle-ferry's in it, and a visit on the National Park: Schiermonnikoog. There we have a day rest.
At sunday, june/july 2003, everyone deliveres the bike at the cycle-shop, and take care of their own luggage again. The travel back to Amsterdam is by train.
4.00 pm Back in Amsterdam Amstel station.
---
who is going with us?
We expect 10 - 20 participants, from all over Europe and elsewhere. This tour is special for not-dutch mensa-members, because we want to show foreigners how it is to cycle in the Netherlands.
Do not expect that you get a very fast bike (it has only three gears) and that you have to go fast. The trip of about 40-50 km a day can be taken the whole day. Stops can be made, and we do not need to cycle in the group all the time: every one gets a map where to go, and can have her or his own sightseeing in the surroundings..
The Netherlands does not have hills to climb, but necessary good rainwear clothes is usefull.
You are not an experienced cyclist? ------Then you can be in!
---
how do we sleep?
1. camping: on little campingplaces

You can take with you your own personal tent, it is also possible to reservate a place in a tent. Two persons per tent.

2. 'kampeerboerderij' on the island of Schiermonnikoog

This is a kind of farmyard campsite, no tents are used, we sleep in the farm itself .
---
where do we go?
amsterdam-volendam-enkhuizen-stavoren-leeuwarden-lauwersoog
schiermonnikoog-lauwersoog-groningen-amsterdam
map :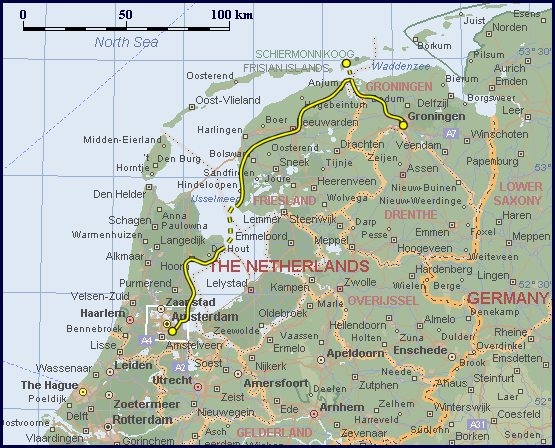 ---
what does this all cost?
we will see..... come again later
---
what do we have to take with us?
The usual things you need for a holiday.
Special for this cycle tour:
sleeping bag, and other things you need to sleep for in the tent.
rainwear what you can use on the bike and it really helps (you can buy some good ones in Amsterdam, we will show you where, about EURO 60,--, and can be used at home afterwards of course!).
a bicycle - you can rent one: EURO 50,-- for the whole week
a tent easy to pack - you can reservate a place in a tent or rent a tent for yourself
costs: has to be found out....
extra shoes
bathing suite
sun cream (at the seaside you need it!)

A van is travelling with us, you do not need to take along with you the luggage on your bike.

---

you want to join the trip?

Just send an email to organizing team and you will get the right info

---

this website is created by the organisor of this trip: Nelleke Boonstra

she is a member of MENSA- the Netherlands

updated 3105 2002