Dutch version / Nederlandse versie
Dear family members, van Reij, van Rij, van Rije, Hoornweg van Rij, Verrij, van Rijn, van Ree.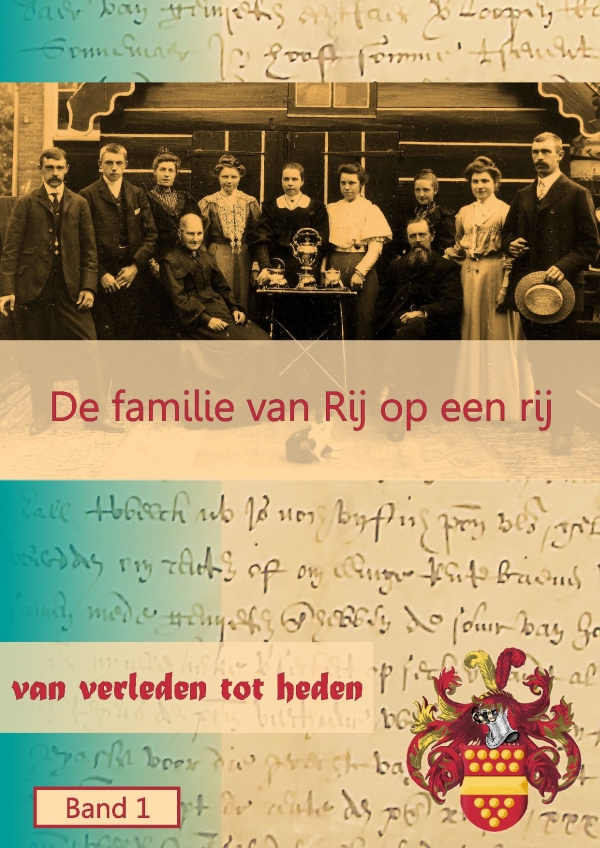 On Saturday 6 October 2012 the Family history books is presented on second family day in Hellevoetsluis. All known ancestors of the Van Rij (Van Ry, Vanry), Van Rije (Van Rye, Vanrye), Van Reij (Van Rey, Vanrey), Verrij (Verry) and Hoornweg van Rij, and also some with the name van Rijn (Maassluis and Vlaardingen), van Ree (Ooltgensplaat) families are combined in the publication "De familie van Rij op een rij" (Family van Rij on a row) with a total of 1120 pages.
The books will contain all known family members who died in the 15th, 16th, 17th, 18th, 19th, 20th and 21th century, and those still living who have given consent for this. Here you find the table of contents and index .
How do I get this Family book?
On this moment the book is sold out, but you can informe me if you want a copy. When 15 or more copys are reserverd, I will try to reprint the book.
You can secure one your copy by transferring € 79.- plus postage and packing to:

account nr.
IBAN:
NL24 RABO 0322 4662 29
BIC:
RABONL2U
f.a.o. D. Hendrikson
Koperslagerlaan 19
3828 DP Hoogland.
The netherlands
Please include your name and address or send it separate by mail tot Stichting van Rij.
Postage and packing outside the Netherlands for one to three books:

| | |
| --- | --- |
| Zone | Amount |
| Eur1 | +€ 12,75 |
| Eur2 | +€ 18,25 |
| Other Europe | +€ 25,75 |
| Outside Europe | +€ 52,00 |
| | |
| --- | --- |
| Zone | countries |
| Eur1: | Belgium, Luxemburg, Denmark(excl. Faeroes Islands and Greenland), Germany, France (incl. Corsica and Monaco), Italy (excl. San Marino and Vatican City), Austria, Spain (incl. Balearic Islands, excl. Canary Islands), United Kingdom (excl. Gibraltar and Channel Islands), Sweden. |
| Eur2: | Bulgaria, Estonia, Finland, Hungary, Ireland, Lithuania, Latvia, Poland, Portugal (incl. Azores and Madeira), Rumania, Slovenia, Slovakia, Czech Republic. |
Story Book
In the near future we also hope to bring out a book with family stories, and for that we need your help. If you have any serious, funny or interesting family stories about the van Rij, van Reij, van Rije, Hoornweg van Rij, Verrij, van Rijn, van Ree or van Riede etc. family, please send your story to Rebekka van Rij. We can only produce this book if we receive enough stories so please start writing. Your story is welcome in English or Dutch.
D. Hendrikson, secretary
---
Update 13-08-2018