Photomodeler Lite
making drawings from pictures.
---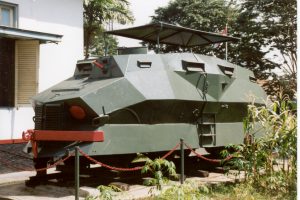 Making a drawing of this armoured train?
Not longer impossible with PhotoModeler.
(photos by mr S.Takemiya).

Some very usefull programs are hidden on the Internet, and sometimes the are free!
My "discovery of the year" is this Photomodeler Lite program.


It works more or less like my Tank-Cam program only now you have to input marks on photo's and you get a 3D-DXF file.
This file you can use in drawing programs like Auto-CAD or Turbo-CAD.

The program is freeware and you can download it and two tutorials here.

Download Photomodeler Lite Freeware.
Download Church Tutorial.
Download Car Tutorial.


---
---
Back to Home Page