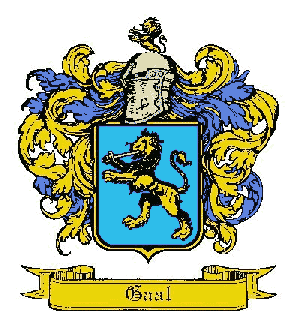 In blauw, een gouden leeuw, die een zwaard richting muil steekt.
Helmteken: de leeuw van het schild uitkomend.

---
In blue, a golden lion holding his sword aiming to his jaws.
Helmet decoration:
The lion of the shield.

---
Schildbeschreibung:
Blau, ein goldener lowe halt ein schwert, mit dem er sich ins maul sticht.
Helmzier:
Der lowe des schildes.

---
D'azur au lion d'or, tenant une epee dont il se perce la gueule.

---

In goud 2 rode dwarsbalken beladen met 5 zilveren ruiten 3,2.
Helmteken: 2 paardebenen.

---
In gold, 2 red transverse beams load with 5 silvery diamonds, 3,2.
Helmet decoration:
2 horse legs.

---