Origin of the program Metronome

The motivation for creating a first prototype (vs. 0.0) was the desire to make various (especially exotic) rhythms audible for making it easy to learn them. While in Western countries mostly regular time signatures are common (quadruple time, three-quarter time, six-eighth time, nine-eighth time, etc.), that is not always the case in other countries, especially with local folk music. In for example the balkan countries, Greece and Turkey time signatures, like (expressed in 16ths) 4-4-6, 4-3-4, 3-2-3, 2-2-2-3, 2-3-3-4-2-3-4, and many other variants exist. In order to learn these rhythms (it is difficult to catch the correct rhythm by counting yourself) it was desired to develop something (in this case a computer program), which can generate any desired rhythm and make it audible. By listening to a certain rhythm often you take it in automatically and you can reproduce it without thinking or counting consciously.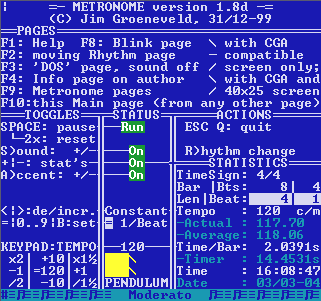 Metronome simulator 1.8d Main page




Next to that the program yet contains many other bells and whistles, like continuously varying (informative) texts on the lower screen line (25) (a.o. a visual display of the time signature and tempo indication in the form of musical, Italian terms), an overview of the active keys and their function at a certain moment, status indicators, an activity (heart beat) indicator with a rotating wheel, turning at a fixed, constant speed, a keypress indicator and of course an adequate response to erroneously or too long pressed keys. Finally the program contains a number of undocumented switches for experimental functions (a.o. automatic tempo correction and various algorithms for accurate time measurements).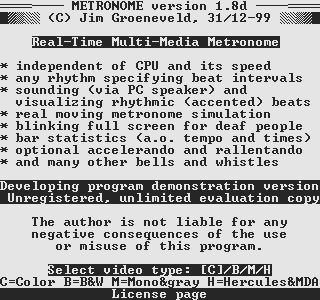 Metronome simulator 1.8d License page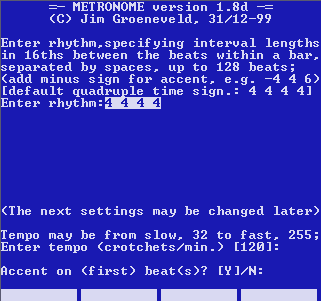 Metronome simulator 1.8d Input page




Summary of features version 1.8

That way the program Metronome (u/i version 1.8) originated, which visualizes the rhythms on the computer screen as well, either as a to and fro moving pendulum, or as a synchroneously running bar over the intervals, or a flashing full screen, or as a real simulation of a nodding metronome arm with an up- and downwards moving weight. Tempos can be set within a broad range and both accelerando and rallentando (acceleration and deceleration) can be switched on optionally. Accented beats can optionally be made audible and visible as such for every first and explicitly indicated subsequent beat. Next, many numerical data are displayed on the (main) screen, like time signature, bar and beat number, number of beats per bar, interval length, tempo (set and measured), average tempo, time per bar, running time, clock time and date.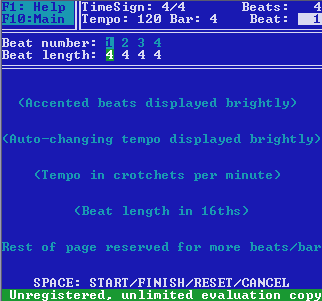 Metronome simulator 1.8d Rhythm page




The program works independently of the CPU (8088, 80x86 and equivalents) and its speed. it is possible that a slow CPU (while the program may run in a BASIC interpreter) can not process rhytms at a selected speed. In such a case the main screen is switched on automatically (if not already active) and the visual display of the rhythm and the numeric data is switched off (from version 1.9 in steps) (but internally really kept, writing to the screen takes relatively much time). Isn't it possible for the CPU by then to keep up with the rhythm (the rhythm actually continues and remains audible) then the tempo will lower in steps automatically. If the lowest temp still is too fast, then it will abort the rhythm and ask for a new one. On a 80386 this will occur most seldomly with a compiled version.