Construction of a 144 MHz pre-amp using a MGF1801 GaAs-FET
Status: finished 19980506.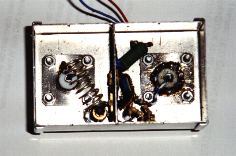 After some experiment I chose to use a tapped L/C input circuit (WA5VJB,DUBUS 3/95) in order to reduce gain at 432MHz. This is of importance in case the pre-amp has to be used at a multi-opr contest site.
For the output I have used the diplexer used by I8CVS & I5TDJ in DUBUS 3/94. The amplifier is now stable.
Measurement results:
NF = 0.6 dB
IP3(f1-f2=100kHz) = -6.9dBm
IP3(f1-f2=200kHz) = -5.5dBm