Rubrails:
<![if !supportEmptyParas]> <![endif]>
I find the rubrails in the plans rather big (25 x 50 mm). I couldn't find that size, so I used 27 x 44 mm instead. It was quite a job to bend them round the sides and keep 'm in place with clamps, but I managed. Next time I'd use thinner battens or laminate some layers of plywood.
For clamps I used pieces of PVC pipe cut with a slot (tip courtesy of bateau.com).
<![if !supportEmptyParas]> <![endif]>
<![if !vml]><![endif]>

rubrails glued & clamped

<![if !vml]><![endif]>

ends held together with bolt & nut

<![if !supportEmptyParas]> <![endif]>

<![if !vml]><![endif]>

ends cut off…

<![if !vml]><![endif]>

…and rounded
<![if !supportEmptyParas]> <![endif]>
<![if !vml]>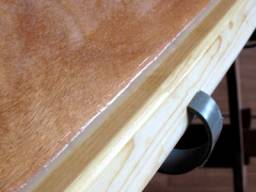 <![endif]>
small fillet at the bottom of the rails
<![if !supportEmptyParas]> <![endif]>
<![if !supportEmptyParas]> <![endif]>