Heartstrings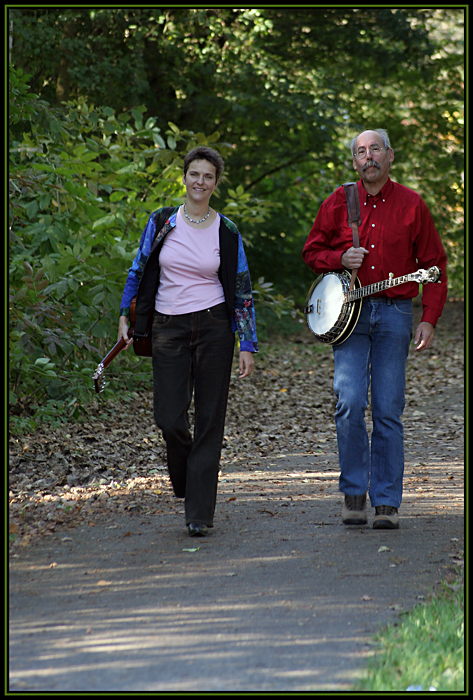 As the name of this duo implies, Elly Beurskens and Bruno van Hoek play their music – straight, clean and simple – from the heart, using their voices and the stringed instruments that are so typical for old-time country and bluegrass: banjo, dobro, mandolin, and guitar.
Both had been very active in different bands for quite a few years, when they met in the Amsterdam folk scene and discovered their mutual passion for honest acoustic music. Between 1986 and 1992 they joined French champion guitar player Jean-Paul Piquard in the successful country-folk trio Reckless Fingers, winning the Dutch Country Music Association's award for 'Best Acoustic Group' for six years in a row, and bringing out two albums ('The New Land' in 1988 and 'Below Sea Level' in 1990).
After the group split up, Bruno and Elly went on as a duo, playing songs and instrumentals in the traditional duet-style of for instance the Louvin Brothers and the Lilly Brothers. Contemporary compositions are part of their repertoire as well, but are interpreted in such a way as to fit into their overall traditional style. The focus is on the harmony vocals, their inventive handling of the stringed instruments, variation in the choice of songs, and a sober but tasteful approach to the American country tradition.
In 1992 they spent a few days with friends in NE England. This turned out to be the beginning of regular performances in British folk clubs, still going on today.
In 1998 their CD 'True Companions' was released, featuring Holland's top bluegrass singer Theo Lissenberg on vocals, guitar and old-time banjo.
With Theo they founded Skyland and played with him until his untimely death in 2003. Listen to them playing and singing 'Your Long Journey' . Skyland played for 3 more years with Jerry Gout, one of Theo's best friends, helping Elly & Bruno through these difficult times.
Apart from playing as a duo, from 2006 to 2009 Heartstrings played with two founding members of Four Wheel Drive to form Half A Turn, adding a new chapter to the book of Dutch Bluegrass. Here's the quartet, playing Bruno's own banjo piece Half A Turn .
Bruno writes most of the duo's instrumental tunes, combining the traditional bluegrass style with more modern influences and a fair amount of 'wild ideas': 'Shorttrack Shuffle' He is an experienced sound engineer and music teacher, teaching bluegrass banjo, mandolin and guitar. He also does workshops on these instruments, as well as on PA-handling for acoustic musicians. This is what happens if you leave him alone with his instruments and his home studio.
Bruno plays bluegrass banjo, mandolin, dobro and guitar
Elly has been an accomplished singer/songwriter for many years. She also does workshops on songwriting. Her songs appear on all the duo's albums: 'Moon over the Water' and some are played and have been recorded by various Dutch musicians and lately American Amy Gallatin sang 'Moon over the Water' on her latest album .
Elly plays guitar and clawhammer banjo

Here are some video snippets from Elly and Bruno while performing: 1, 2, 3, 4, 5.

Elly was also active with the Dutch Feminicana-trio Babes in the Grass , while Bruno, along with other husband Jan, sometimes provided instrumental support.

At present they are sometimes performing with Elly's brother Ben in the family trio Mrs. Robinson

Also at times, they can be found together with Jan Pals and Beppie Gasman in the quartet Take Four
Apart from being 'regulars' in the Dutch folk-, country- and bluegrass scene, Heartstrings have appeared on stages in Germany, Denmark and the USA, and are regular and well-loved guests in British folk- and bluegrass clubs, where they also have played with Bram Taylor , one of Britain's finest professional folk singers.

Elly plays a BPR guitar