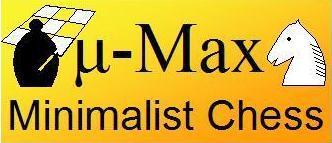 Previous

Compiling micro-Max
Compiler
Micro-Max was originally written in Kernighan&Ritchie C, because that allows more compact code than the ANSI dialect. It can be compiled with gcc, under Windows I use cygwin to run gcc. The command line to compile under cygwin if you also want to be able to run from the normal Windows command prompt is:

gcc -O2 -mno-cygwin max.c -o max.exe

To play you must enter moves in algebraic notation, and to make the computer do a move you should press an extra enter. You can alternate sides whenever you want, the program accepts or plays moves for the side whose turn it is to move. After having done a move, be it yours or his own, micro-Max prints a board with the new position. To quit type control-c.
Adapting the Source
If you want to change the hash-table size, because 192MB is too large for your memory (and the system starts swapping like mad), you should lower the value of U as set by the #define statement. Be sure to pick a size that is a power-of-two plus 8. The simplest way to do this is enter the number in hexadecimal, e.g.

#define U 0x100008

for a hash table of 12MB in stead of 192MB. 0x200008 and 0x400008 are also good values.
If you want to adjust the time per move, you can change the constant 1e7 in N<1e7. This is the number of nodes that is minimally searched, and the time per move is directly proportional to it. So for faster play you could try 1e6 or even 1e5. Micro-Max finishes the ply it was searching, and this causes strongly variable time per move. The actual number of nodes searched is sometimes up to 10 times larger than the number given, if it starts a deeper search after the prevous one was just under the requested number of nodes.
ANSI C
If your compiler only understands ANSI C, you can copy-paste the listing below. The main difference with the K&R version is the declaration of the routines D() and main(), that needs specification of the types within the argument list, rather than in a separate declaration outside the function body, and that main() now explicitly returns an integer (namely zero). In addition, random() was changed to rand(), because the former does not seem to be universal (gcc recognizes both). To make sure the linker recognizes printf() and getchar() in a C++ environment, the header files stdio.h and math.h are included.
The truly lazy can download an executable that runs under Windows, which uses 48MB hash table and searches 1 million positions.
A source of micro-Max in ANSI C:

/***************************************************************************/
/*                               micro-Max,                                */
/* A chess program smaller than 2KB (of non-blank source), by H.G. Muller  */
/***************************************************************************/
/* version 3.2 (2000 characters) features:                                 */
/* - recursive negamax search                                              */
/* - quiescence search with recaptures                                     */
/* - recapture extensions                                                  */
/* - (internal) iterative deepening                                        */
/* - best-move-first 'sorting'                                             */
/* - a hash table storing score and best move                              */
/* - full FIDE rules (expt minor ptomotion) and move-legality checking     */

#include <stdio.h>
#include <math.h>

#define F(I,S,N) for(I=S;I<N;I++)
#define W(A) while(A)
#define K(A,B) *(int*)(T+A+(B&8)+S*(B&7))
#define J(A) K(y+A,b[y])-K(x+A,u)-K(H+A,t)

#define U 16777224
struct _ {int K,V;char X,Y,D;} A[U];           /* hash table, 16M+8 entries*/

int V=112,M=136,S=128,I=8e3,C=799,Q,N,i;       /* V=0x70=rank mask, M=0x88 */

char O,K,L,
w[]={0,1,1,3,-1,3,5,9},                        /* relative piece values    */
o[]={-16,-15,-17,0,1,16,0,1,16,15,17,0,14,18,31,33,0, /* step-vector lists */
     7,-1,11,6,8,3,6,                          /* 1st dir. in o[] per piece*/
     6,3,5,7,4,5,3,6},                         /* initial piece setup      */
b[129],                                        /* board: half of 16x8+dummy*/
T[1035],                                       /* hash translation table   */

n[]=".?+nkbrq?*?NKBRQ";                        /* piece symbols on printout*/

int D(int k,int q,int l,int e,int J,int Z,int E,int z,int n)    
/* recursive minimax search, k=moving side, n=depth*/
/* (q,l)=window, e=current eval. score, E=e.p. sqr.*/
/* e=score, z=prev.dest; J,Z=hashkeys; return score*/
{                       
 int j,r,m,v,d,h,i=8,F,G;
 char t,p,u,x,y,X,Y,H,B;
 struct _*a=A;
                                               /* lookup pos. in hash table*/
 j=(k*E^J)&U-9;                                /* try 8 consec. locations  */
 while((h=A[++j].K)&&h-Z&&--i);                /* first empty or match     */
 a+=i?j:0;                                     /* dummy A[0] if miss & full*/
 if(a->K)                                      /* hit: pos. is in hash tab */
 {d=a->D;v=a->V;X=a->X;                        /* examine stored data      */
  if(d>=n)                                     /* if depth sufficient:     */
  {if(v>=l|X&S&&v<=q|X&8)return v;             /* use if window compatible */
   d=n-1;                                      /* or use as iter. start    */
  }X&=~M;Y=a->Y;                               /*      with best-move hint */
  Y=d?Y:0;                                     /* don't try best at d=0    */
 }else d=X=Y=0;                                /* start iter., no best yet */
 N++;                                          /* node count (for timing)  */
 W(d++<n|z==8&N<1e7&d<98)                      /* iterative deepening loop */
 {x=B=X;                                       /* start scan at prev. best */
  Y|=8&Y>>4;                                   /* request try noncastl. 1st*/
  m=d>1?-I:e;                                  /* unconsidered:static eval */
  do{u=b[x];                                   /* scan board looking for   */
   if(u&k)                                     /*  own piece (inefficient!)*/
   {r=p=u&7;                                   /* p = piece type (set r>0) */
    j=o[p+16];                                 /* first step vector f.piece*/
    W(r=p>2&r<0?-r:-o[++j])                    /* loop over directions o[] */
    {A:                                        /* resume normal after best */
     y=x;F=G=S;                                /* (x,y)=move, (F,G)=castl.R*/
     do{H=y+=r;                                /* y traverses ray          */
      if(Y&8)H=y=Y&~M;                         /* sneak in prev. best move */
      if(y&M)break;                            /* board edge hit           */
      if(p<3&y==E)H=y^16;                      /* shift capt.sqr. H if e.p.*/
      t=b[H];if(t&k|p<3&!(r&7)!=!t)break;      /* capt. own, bad pawn mode */
      i=99*w[t&7];                             /* value of capt. piece t   */
      if(i<0||E-S&&b[E]&&y-E<2&E-y<2)m=I;      /* K capt. or bad castling  */
      if(m>=l)goto C;                          /* abort on fail high       */
    
      if(h=d-(y!=z))                           /* remaining depth(-recapt.)*/
      {v=p<6?b[x+8]-b[y+8]:0;                  /* center positional pts.   */
       b[G]=b[H]=b[x]=0;b[y]=u&31;             /* do move, strip virgin-bit*/
       if(!(G&M)){b[F]=k+6;v+=30;}             /* castling: put R & score  */
       if(p<3)                                 /* pawns:                   */
       {v-=9*(((x-2)&M||b[x-2]!=u)+            /* structure, undefended    */
              ((x+2)&M||b[x+2]!=u)-1);         /*        squares plus bias */
        if(y+r+1&S){b[y]|=7;i+=C;}             /* promote p to Q, add score*/
       }
       v=-D(24-k,-l-(l>e),m>q?-m:-q,-e-v-i,    /* recursive eval. of reply */
            J+J(0),Z+J(8)+G-S,F,y,h);          /* J,Z: hash keys           */
       v-=v>e;                                 /* delayed-gain penalty     */
       if(z==9)                                /* called as move-legality  */
       {if(v!=-I&x==K&y==L)                    /*   checker: if move found */
        {Q=-e-i;O=F;return l;}                 /*   & not in check, signal */
        v=m;                                   /* (prevent fail-lows on    */
       }                                       /*   K-capt. replies)       */
       b[G]=k+38;b[F]=b[y]=0;b[x]=u;b[H]=t;    /* undo move,G can be dummy */
       if(Y&8){m=v;Y&=~8;goto A;}              /* best=1st done,redo normal*/
       if(v>m){m=v;X=x;Y=y|S&G;}               /* update max, mark with S  */
      }                                        /*          if non castling */
      t+=p<5;                                  /* fake capt. for nonsliding*/
      if(p<3&6*k+(y&V)==S                      /* pawn on 3rd/6th, or      */
          ||(u&~24)==36&j==7&&                 /* virgin K moving sideways,*/
          G&M&&b[G=(x|7)-(r>>1&7)]&32          /* 1st, virgin R in corner G*/
          &&!(b[G^1]|b[G^2])                   /* 2 empty sqrs. next to R  */
      ){F=y;t--;}                              /* unfake capt., enable e.p.*/
     }W(!t);                                   /* if not capt. continue ray*/
  }}}W((x=x+9&~M)-B);                          /* next sqr. of board, wrap */
C:if(m>I/4|m<-I/4)d=99;                        /* mate is indep. of depth  */
  m=m+I?m:-D(24-k,-I,I,0,J,K,S,z,1)/2;         /* best loses K: (stale)mate*/
  if(!a->K|(a->X&M)!=M|a->D<=d)                /* if new/better type/depth:*/
  {a->K=Z;a->V=m;a->D=d;A->K=0;                /* store in hash,dummy stays*/
   a->X=X|8*(m>q)|S*(m<l);a->Y=Y;              /* empty, type (limit/exact)*/
  }                                            /*    encoded in X S,8 bits */
/*if(z==8)printf("%2d ply, %9d searched, %6d by (%2x,%2x)\n",d-1,N,m,X,Y&0x77);*/
 }
 if(z&8){K=X;L=Y&~M;}
 return m;                                     
}

int main(void)
{
 int j,k=8,*p,c[9];

 F(i,0,8)
 {b[i]=(b[i+V]=o[i+24]+40)+8;b[i+16]=18;b[i+96]=9;   /* initial board setup*/
  F(j,0,8)b[16*j+i+8]=(i-4)*(i-4)+(j-3.5)*(j-3.5);   /* center-pts table   */
 }                                                   /*(in unused half b[])*/
 F(i,M,1035)T[i]=rand()>>9;

 W(1)                                                /* play loop          */
 {F(i,0,121)printf(" %c",i&8&&(i+=7)?10:n[b[i]&15]); /* print board        */
  p=c;W((*p++=getchar())>10);                        /* read input line    */
  N=0;
  if(*c-10){K=c[0]-16*c[1]+C;L=c[2]-16*c[3]+C;}else  /* parse entered move */
   D(k,-I,I,Q,1,1,O,8,0);                            /* or think up one    */
  for(i=0;i<U;i++)A[i].K=0;                          /* clear hash table   */
  if(D(k,-I,I,Q,1,1,O,9,2)==I)k^=24;                 /* check legality & do*/
 }
 return 0;
}


Back