GARNER TRACTORS HOMEPAGE
---

---
GARNER a Plotted History
Henry garner in 1907 set up a business acting as agents for Argyll and Humber motor cars from premises in Natwich. In 1908 he moved the business to the Moseley Motor Works in Birmingham and the company name was changed to Henry Garner Ltd. In 1909 he made an agreement with Austin motors to act as their Midlands agent and by 1914 he had become their largest. In 1915 Garner started to import commercial vehicles of 2,3,4,and 6 ton from an American manufacturer to sell under his own name. However by 1925 he was manufacturing commercial vehicles to his own design at the Moseley Motor Works, whilst continuing to act as agents for Argyll, Humber, Austin and Talbot cars.
Besides importing commercial vehicles from America, Garner also imported a tractor via the Maxim Munitions Corp. of New York, who themselves brought the tractor from the manufacturer; William Galloway of Waterloo, Iowa. Garner sold the tractor in Britain under his own name, however sales of the tractor were poor due to cheaper competition, despite a number of publicity stunts including; the towing of a Threshing machine from London to Birmingham in 24 hours and ploughing 800 acres non stop. Garner ceased marketing the tractor in 1924. The tractor was powered by a 4 cylinder 30 h.p. petrol\paraffin engine coupled to a 3 speed gearbox allowing a top speed of 5 mph at a governed speed of 900rpm.
In 1926 the business moved to new premises in Kings Road Tyseley, Birmingham and during the following years the company continued to expand the range of commercial vehicles. Offering differing axle and pay load weights, as well as specialising in forward control types.
In order to separate out the car sales from the commercial vehicle manufacturing, Henry Garner formed a separate company in 1927. This new company, Garner Motors Ltd concentrated on the manufacture of commercial vehicles, whilst the car sales continued to operate under Henry garner Ltd.
The threat of impending legislation that was to force steam powered commercial vehicles off the roads caused Sentinel of Shrewsbury to think carefully about the further of road transport and by 1933 they had acquired a majority share holding of Garner Motors Ltd. By 1934 the registered offices of Garners was quoted as being the Sentinel Steam Works, Shrewsbury and in the January of 1934 Sentinel announced that the manufacture of Garner Commercial vehicles was being undertaken at their Shrewsbury works. From 1935 all non steam powered lorries leaving the Shrewsbury works carried the Sentinel and Garner badges.
However sales of the Sentinel Garners was limited and by June 1935 the company went into liquidation. The company continued to manufacture vehicles whilst being run by the liquidators, until finally being wound up in 1937.
During the time that the company was being run by the liquidators, the Garner name was brought by a group of London business men and with a move to new works at Acton North London they began to manufacture a new range of commercial vehicles which were sold from the spring of 1937.
During the war years Garners ceased making vehicles and concentrated on the manufacture of Trailers and Compressors for military use as well as the manufacture of body work for other commercial vehicle manufacturers.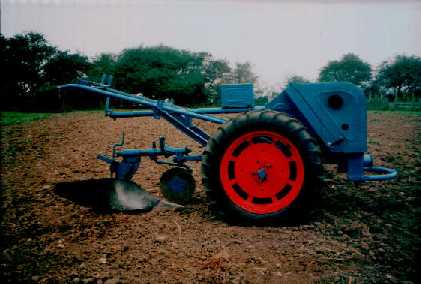 After the war Garner were unsure as to where the future of the company laid. An article in the Farmers Weekly of 1945 estimated that their was a need for more light agricultural machines. Garners set about designing a light two wheeled tractor to be used with its own range of comprehensive tools and attachments. A new subsidiary company, Garner Mobile Equipment Ltd was set up to manufacture the new Garner light tractor, which although launched in January of 1947 was not available until February 1948 due to a materials shortage. This Two wheeled machine was followed a year later by a four wheeled tractor that used the same running gear as the two wheel tractor. This was followed a year latter by a slightly larger and more powerful tractor that was also made available in an industrial guise.
Production of the light Tractors ceased in 1955 due to declining sales. Garners, however continued to survive manufacturing all weather Tractor cabs and car trailers until 1968. The commercial body building side of the company merged with Haws & Co at Sunbury on themes who eventually became Hawson-Garner who continue to manufacture specialist body work at their works at Andover in Hampshire.
---

Click to send e-mail to Robert (Bob) Maries.
He offers historical and technical assistance, as well as a Garner Register.

This page was made 20 June 1999 by Michiel Hooijberg, for Bob Maries.
---