Click on / klik op:


EFKE's home / huis
House and fields / hof en veld
Water
Sowing and planting / zaaien en planten
Food / eten en drinken
Cooking / koken
Cosmos / kosmos
Clothes / kleren
Contents pocket / inhoud zakken
Tools / gereedschap
Adorned / opgesierd
Music / muziek
Very friendly visit / prettig bezoek
Colours / kleuren
Movement while sleeping /
slaapbewegingen
Communication / communicatie
Area: maps / gebied in kaart
Way of travelling / hoe te reizen
Family meeting / familiebezoek
Ancestors / voorouders
Footprints / tocht door de velden
Speed / tempo
Cold weather / kou
Efke is ill / ziek
Bad dream / beren en muizen
Psyche
Masks / maskers
Playing / spelen
Hiding / vluchten
Fighting / vechten
Negotiations / onderhandelen
Enjoys the garden / geniet
van de tuin
Little helpers / klein gespuis
Beloved art objects / geliefde
kunstvoorwerpen
Efke's graffiti
Last harvest / laatste oogst
Trade & industry / handel
en industrie
Processing of waste /
afvalverwerking
Dream castles / droomkastelen
If I were a pasha / als ik eens een
pasha was....
If I were a scoundrel / als ik eens
een boef was....
If I were a King / als ik eens een
Koning was....
EFKE is leaving / Efke vertrekt
Identity paper / identiteitsbewijs
Migration/ grote trek
Course of life / gang van het leven
Guardian angels / beschermengelen
All souls departed / zij, die gingen
Part of the universe / deel van het geheel
EFKE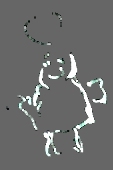 a silent strip


(completed)



by Els Eckhardt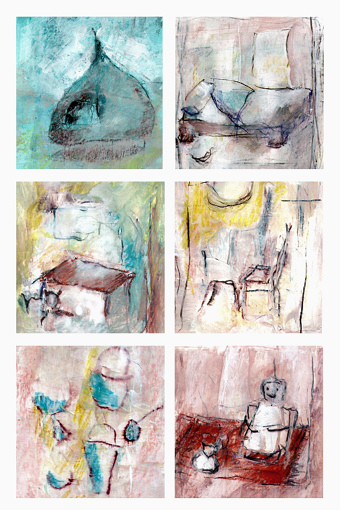 Efke's home / huis
next >>


EFKE's world is a painted in a silent strip that wants to remind people of the basic things in life.
In our busy, busy days we could easily forget that we are part of the cosmos, depending on the weather, cold and heat, darkness and light, water and fire.
Since time immemorial we have constructed the world around us. We have used and transformed minerals, plants, animals and we have built our society.

Our daily business: isn't it only the moving and removing of materials?
The character EFKE will show you a simple life.



De wereld van EFKE

wordt geschilderd in een beeldverhaal dat mensen even wil laten stilstaan bij de essentiële zaken die van oudsher aan de basis van het leven staan en die we in het drukke hedendaagse bestaan dreigen te vergeten.
We blijven een kind van de kosmos, afhankelijk van licht, donker, vuur en water; van warmte, koude en wind: de grillen van de elementen.
Hoe we door de eeuwen heen vorm hebben gegeven aan de ons omringende minerale, plantaardige, dierlijke en tussen-menselijke omgeving, bepaalt onze wereld en ons leven.

Uiteindelijk doen we ons hele leven niet veel anders dan wat verplaatsen van materie; hoe mooi we die activiteit ook benoemen.
Het figuurtje EFKE toont ons een eenvoudig bestaan.





about the artist

(C)2010 e.b. eckhardt