Technology for Justice, How Information Technology Can Support Judicial Reform.
Technology for Justice examines impacts of information technology (IT) on the administration of justice. Court users all over the world complain mainly about long delays, lack of access to justice and court corruption. Drawing on a broad variety of sources - comparative studies, statistics, case law and jurisprudence, studies on IT use and on court usage - this study examines how IT can help to remedy these complaints.
The study, contributing to knowledge about information use and IT in proceedings, analyzes how automated case registration systems have revolutionized thinking about case management and significantly reduced court disposition times. It also explores Internet technology's potential for increasing access to legal information, predicted by Richard Susskind in 1996, as a means for self-help with settlement and support for court access. Providing the first systematic analysis of court corruption, it analyzes IT's contribution to reducing corruption. It closes by providing insights into the Internet's new challenges for judiciaries.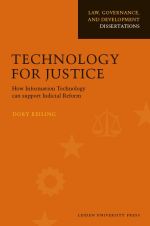 Dory Reiling
Technology for Justice
How Information Technology can support Judicial Reform
Leiden University Press and Amsterdam University Press
Law, Governance and Development Dissertation Series
isbn 978-908-72-8071-0
15,6 x 23,4 cm, 318 pages,
paperback, 2009
English
€ 39,90
now also available from Amazon.com
The PhD ceremony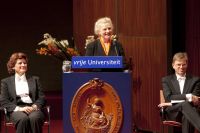 On December 11, 2009, I defended
the PhD thesis Technology for Justice
at the VU University in Amsterdam
and was awarded the PhD Degree.
The donation
As a gift, I asked for a collection to make a donation to Urgent Action Fund-Africa.
As promised, here is the report on the donation so far.
The total amount collected is € 1960,-. Thank you all!

Jessica Nkuuhe, UAF-A's executive director has informed
me that UAF-A has chosen to use the donation for the programme
supporting women who were raped in armed conflict and thus contracted HIV-AIDS.
This is the report of a conference on the subject.
Earlier projects were evaluated and lessons learned. I found the case for
this programme very convincing and worthy of support.
Finally, at the end of August 2010, I transferred € 2000 to UAFA.
They have acknowledged receipt. The reason all this took so long was
that we looked into a way to make the donation tax-deductible
so we could augment the present amount with the tax benefit.
However, that turned out to be a nice idea that could not work.


The dissertation
Here is press info in English: 150, 250, 425 words.
Persinformatie in het Nederlands: 109, 116, 250, 500 woorden.
Full text in pdf
Samenvatting in het Nederlands
Enkele nevenproducten in het Nederlands (some byproducts in Dutch):
Deel 2 over IT in gerechten is samengevat voor een artikel voor het WODC.
Part 2 on court technology was summarized for a WODC-publication.
Deel 3 wordt besproken in een blog in mr-online. Part 3 is discussed in a mr-online blog,
Ook deel 4 en deel 5 komen in een mr-online blog aan de orde. And so are Part 4. and Part 5.

This is the table of contents

Part 1 - Introduction
1.1 Introduction
1.2 Conceptual framework and terminology
1.3 Sources
1.4 Information and information technology
Concluding Part 1
Part 2 - Information Technology in Courts
2.1 Court IT
2.2 Lessons on Developing and Implementing IT
Conclusions for Part 2
Part 3– Case Delay
3 .1. Case Delay
3 .2. Case handling as a process of information management
3 .3. Judicial Roles in Detail
Conclusions for Part 3
Part 4- Access to Justice
4 .1 Access to Justice
4 .2 Access to Information
4 .3 Access to Court
Conclusions for Part 4
Part 5- Impartiality, Integrity and Corruption
5 .1 Corruption - Theory
5 .2 Court Corruption - Empirical Evidence
5 .3 Court Corruption - Remedies
Conclusions for Part 5

Part 6- Conclusions
6.1 Technology for Justice: How Does Information Technology Affect Delay, Access and Corruption?
6.2 New Research

Samenvatting in het Nederlands
Index
Bibliography
Appendix A: Web Pages on Divorce
Appendix B: Syndromes of Corruption